Absurdia
Absurdia is an absurdist modern fantasy roleplaying game about the inane hilarity and understated horror of everyday life. Inspired by works of absurd humor, surreal horror, and literary nonsense like Welcome to Night Vale, Alice in Wonderland, Gravity Falls, and the Twilight Zone, Absurdia is an opportunity to indulge in the surreal and outlandish while subverting the absurdity of modern society.

When you play this game, you'll play people trapped in a suburban town unmoored from space and time, wracked by the surreal entropy of chaos. You'll contend with arcane bureaucracy, sentient machines, maniacal PTAs, malevolent garden flora, and the occasional cosmic horror as you attempt to survive, overcome, and perhaps even escape the darkly idyllic community. Absurdia's game mechanics are Powered by the Apocalypse.
The game includes:
A 105 page core book that contains everything you need to begin exploring your own strange and surreal town
A 2 page rules reference sheet for use during play
9 unique playbook and character sheets
Itchfunding
Absurdia has been fully funded through a successful itchfunding campaign! In the coming months, the game will be updated with additional artwork, graphic design, digital assets, and fully fleshed out setting developed by guest writers that can be easily picked up for one shot play. Keep an eye on the devlog for updates.

The current version of Absurdia, v0.9, contains all the information and resources that you need to play the game. If you purchase a copy, you will receive all future digital updates to the game without having to pay again.
As the game will receive regular updates, any playtest notes or other feedback is welcome! You can send them to qmajeski@gmail.com.
Press
Actual Plays
Reviews and Interviews
Credits
Writing and Design: Quinn Majeski
Editing: Cindy Butor
Cover Illustration: Kaylee Rowena
Playbook Layout: Tim Devine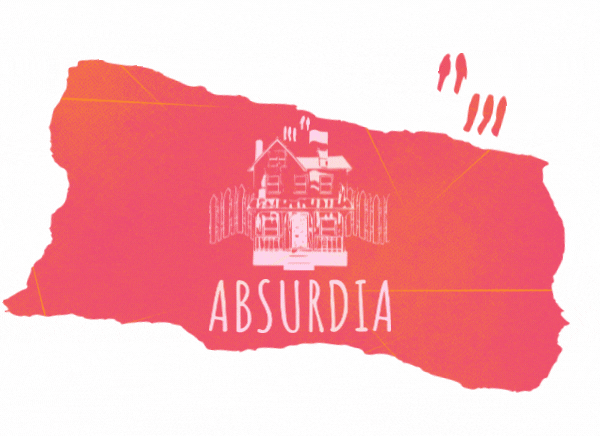 Purchase
In order to download this game you must purchase it at or above the minimum price of $12 USD. You will get access to the following files:
Absurdia Playbooks.pdf
48 MB
Absurdia Player Reference Sheet
2 MB
Exclusive content
Support this game at or above a special price point to receive something exclusive.
Community Copies
Each sale of Absurdia adds a Community Copy, which is available for any member of the community for whom the listed price would be a financial burden. If you're unable to purchase a copy of the game, please claim one of these community copies, no questions asked.